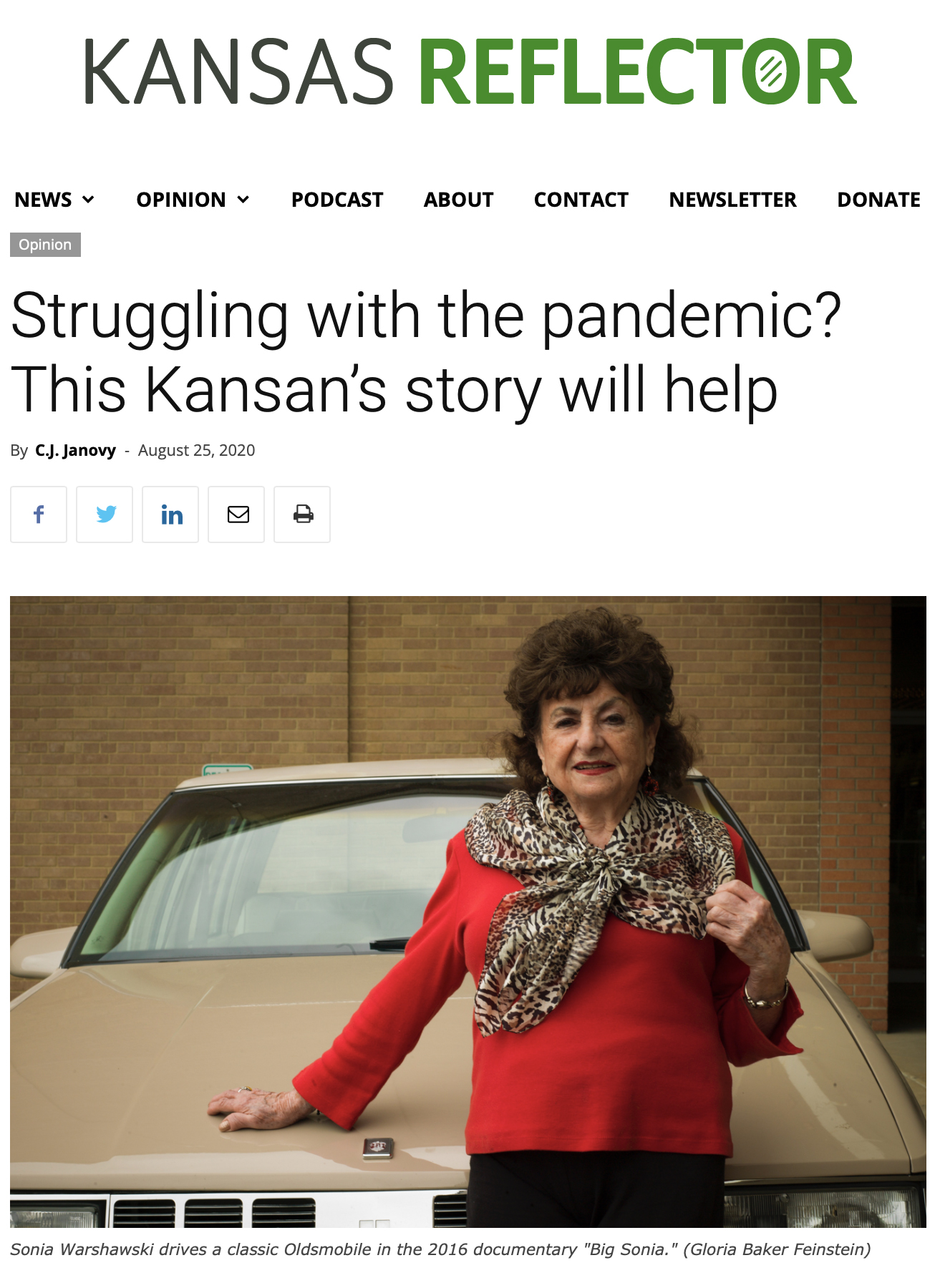 Back in the cold days of March, it was hard to imagine making it to the end of lockdown, maybe around Memorial Day. Imagining the start of a new school year in our current state of abnormality was not among (most of) our thought exercises. But here we are, having passed wits' end a while back.
This particular stretch of the pandemic appears to be especially hard for a subset of parents and students whose lives are being ruined by the loss of fall sports. Begging school boards to let them play, kids describe working their whole lives for senior seasons and parents fear losing out on college scholarships.
Right about now, all of us could stand to hear from one Johnson County resident.
It's only been a few years since assemblies full of Kansas school kids had visits from Sonia Warshawski, whose story, captured in the documentary "Big Sonia," has only grown more relevant since the film's release in November 2016.
Watching it is guaranteed to make anyone's current situation easier to endure.
Warshawski was almost 14 when Nazis came to Międzyrzec, Poland. They rounded up her father and brother, who she never saw again. Her sister escaped, but soldiers loaded Warshawski and her mother into a cattle car.
She spent years in three different concentration camps.
"You're living every moment with fear," she says. "It was really like living in hell."
The worst moment was when she was 17, at Majdanek, when she heard sirens and found a peephole just in time to see her mother in a line of women outside the gas chamber.
"All of them knew where they go," she says. "I saw my mom in this column. I saw her holding together another lady."
She remembers the heavy boots of the soldier in Auschwitz-Birkenau who beat her nearly to death.
Warshawski was 19 when her camp was liberated. Prisoners could hear the tanks arriving, and guards began shooting.
"I did not realize what is happening to me until the blood start coming and I knew that I'm dying," Warshawski remembers of the bullet that missed her heart by a centimeter. "So this was a terrible experience to see on the day of liberation, after so much struggle. But I made it."
Nothing would ever be normal.
"Sometimes even people were joking about something," she says, "I would catch myself if i was even laughing. I felt guilty."
But you live with it. She married John — the couple met in Bergen-Belsen — and they ended up in Kansas where they raised children who had children.
The inspiration for "Big Sonia" was far less dramatic than the film. John owned a tailor shop at Metcalf South mall and after he died, Sonia took it over, creating a colorful and loving space that kept her busy so she didn't think so much.
But Metcalf South was dying, too, and Sonia was certain to lose the shop. Warshawski's granddaughter, a filmmaker named Leah Warshawski, wanted to document that struggle.
In their interviews, Sonia opened up about her concentration camp experience for the first time. And, with white supremacy and other familiar forms of hatred on the rise, she realized she needed to tell her story widely.
By the end of the film, Sonia is visiting prisoners in Lansing. One, who has been there for 32 years, says he couldn't have endured what she did.
"She gave me a kick in the butt," says another, "because I have a tendency of pity parties."
Maybe, like one of those Big Reads, Kansas could have a Big Watch for "Big Sonia." It would require 90 minutes and a few bucks on a streaming platform.
That's already happening in some places, says Leah Warshawski.
"A lot of people are now watching digitally, and we've done a number of virtual screenings and director talkbacks since March," she says, and they've created an educational package for schools.
"We're hearing from people that the film is giving them hope right now when there's so much anxiety and fear," Leah says.
She reports that her grandmother hasn't been going to work because she doesn't want to get sick, but is enjoying her garden. She shares a voicemail Sonia left her in April:
"She knows that things could always be worse," Leah says. "As she puts it, 'At least I'm not in a concentration camp.' "
If that's not enough perspective for Kansans who might be forced to make some new dreams, here's some wisdom passed down from Sonia Warshawski's mother.
"Whenever you are down," she told Sonia, "look more down and you'll be on top."