DOCUMENTARY SHORT
[ TRT 29 minutes ]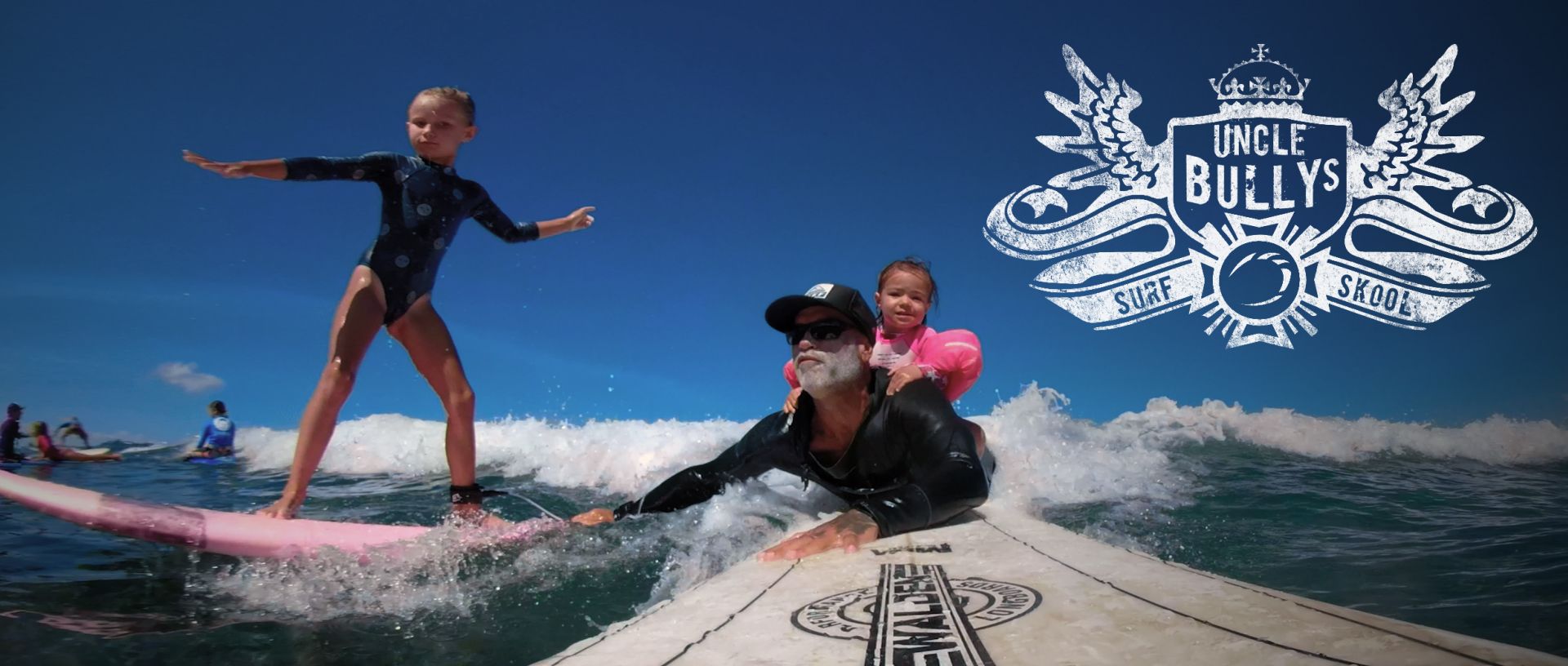 DISASTER STRIKES | WHO WILL STAND UP ?
When a global pandemic decimates the tourism industry across the Hawaiian Islands it means no travel, no tourists, and no surf lessons. Surf instructor Bull Kotter (or "Bully" as he's lovingly called) suddenly finds his small business pushed to the brink. So he turns to his community – not for help or a handout, but to give back. From surf culture, to ocean respect, to kindness, Uncle Bully is translating etiquette in the line-up into etiquette in life.
Beneath the brash and burly exterior is a heart of pure gold, and grit. Bully grew up on the streets of Lahaina and he knows what it means to "live it tough". So when he saw other parents suddenly without work and kids without school or structure, he knew exactly what he needed to do. Instead of teaching the hordes of tourists and 1st-timers from the mainland, he turned to the local kids, the "keiki" who have never surfed. Many are "living it really tough", living outside without a consistent place to sleep at night. "Uncle Bully's Surf Skool" also provides an intimate (and rarely seen) glimpse into the homeless epidemic on Maui.
This is a film about the power of one person to shape a more hopeful future for the next generation. The film grants you "surf-side access" to Uncle Bully's unique approach, on the water and reaching young minds with his power of being present. A vast array of cameras and microphones – dispersed across the surf break – literally takes you inside the action as these surf sessions turn into life lessons. Witness an "in-the-waves" intimacy between child and mentor not before experienced. Little faces, once fearful and isolated, wash-over with joy and liberation, and that new glow of confidence – as surfers and as humans.
THEIR FACES SAY IT ALL
FEBRUARY 2023: We've just begun submitting to film festivals and currently looking for distribution partners and brand sponsors to help us bring this film into the world and make a BIG impact. Please email leah@inflatablefilm.com for more info and to get involved.
LEAH WARSHAWSKI: Producer | Director | Impact Producer
TODD SOLIDAY: Director | Camera | Editor | Location Sound
RAY & VERA CONNIFF FOUNDATION: In Association With
ANN ELISE WARE: Executive Producer
TAMARA CONNIFF: Producer
KIM LAWRENCE: Impact Producer
TOBI NOVA: Location Sound
ERIC FRITH: Story Producer
LILY MEOLA & ERIK JANSON: Featured Musical Artists
"JUST BE PRESENT IN ONE LIFE. YOU CAN BE THE CHANGE."
please visit: MANA MENTORS