IN DEVELOPMENT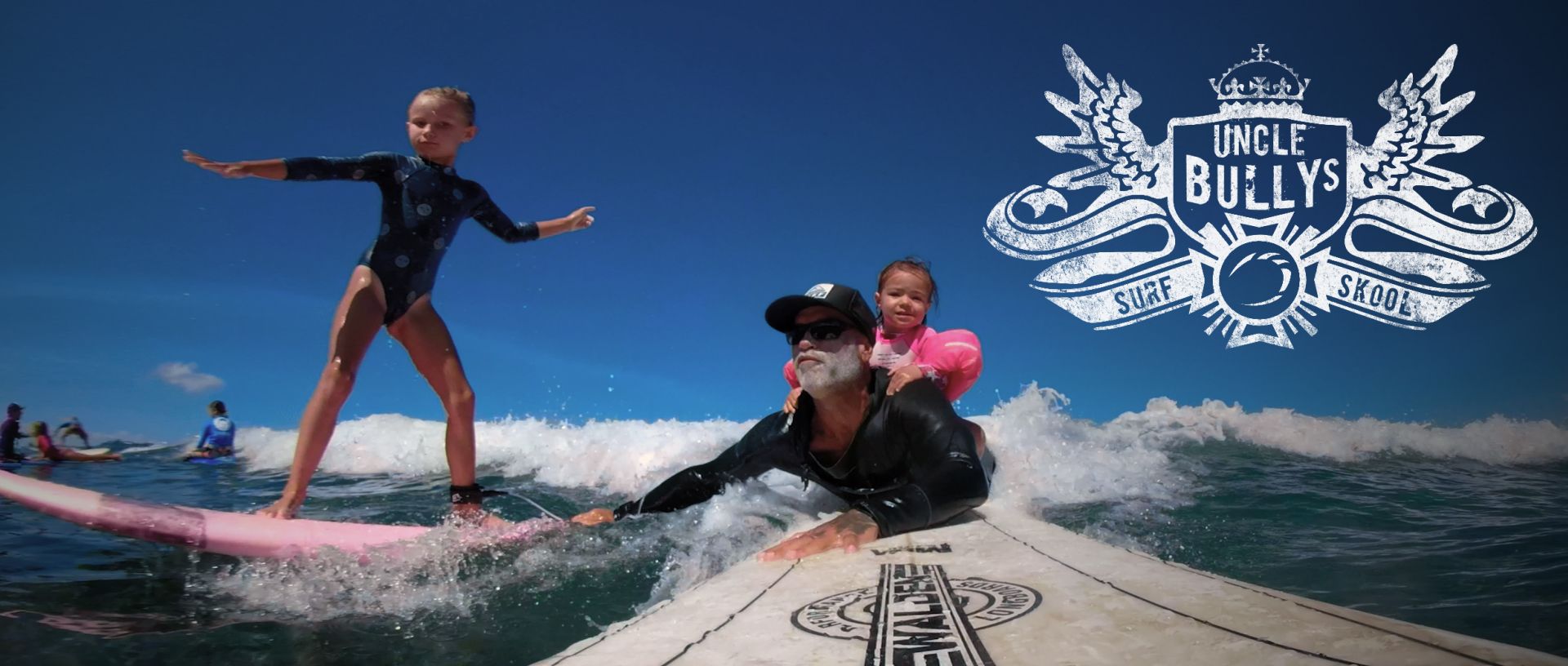 DISASTER STRIKES | WHO WILL STAND UP ?
A global pandemic decimates the tourism industry across the Hawaiian Islands. That means no travel, no tourists…
and NO SURF LESSONS.
Surf instructor BULL KOTTER suddenly finds his small business pushed to the brink. So he turns to his community:
not for help or a handout… but to GIVE BACK.
"When da Bull speaks, you bettah listen Brah." That's some sound advice from an 8-year-old to an even younger 1st-timer just as "Uncle Bully" struts up and circles up his first session of the day.
Uncle Bully's Surf School is truly one of a kind. Beneath the brash and burly is a heart of pure GOLD… and GRIT. Bully grew up on the streets of Lahaina. He knows what it means to "live it tough". And when he saw other parents suddenly without work, kids without school or structure, he knew right where this was going, and exactly what he needed to do.
Instead of teaching the hordes of tourists and 1st-timers from OFF-island, he's turned to the LOCAL kids, the "keiki" who have NEVER surfed, some even afraid of the water, and many who are living it really tough, living outside.
From surf culture, to ocean respect, to love for all that is wild in the water, Uncle Bully is translating etiquette in the LINE-up into etiquette in LIFE. And yes, with his own unique style, he's teaching them to SURF… all of it, FREE. Each day, Uncle Bully teaches the kids about the importance of ocean conservation and protecting our unique ocean habitat around Maui. He encourages trash and beach plastic pickup each morning before any surf lesson begins.
"I just want to keep these little guys from goin' down that road I went. That's not gonna happen on my watch, not on my block. I just wanna give them something to pull their faces out of their screens, to look up from their situations, so they can SEE who they can BE."
And with that he turns and tucks another new member of his miniature tribe under one of his massive wings, his gentle voice barely audible, whispering calm advice as they head for the water.
This is a film about the power of ONE person to shape a more hopeful future for MANY. Little faces, once fearful and isolated, wash-over with joy, and liberation, and that new glow of confidence, as surfers… as HUMANS.
We are currently looking for partners and sponsors to bring Bully's hopeful story to the world. Please email leah@inflatablefilm.com to get involved.
LEAH WARSHAWSKI: Producer | Director
TODD SOLIDAY: Director | Camera
THEIR FACES SAY IT ALL